Click here to visit our FaceBook page for recent news
Sea and Sun Camp
A Fun Camp for Blind and Visually Impaired Youth!
2017 Camp Dates:
May 19th, 20th and 21st
A member of the Lions of Ms Activities Corp.
and funded by
The Lions Sight Foundation of Mississippi
The Sea and Sun Camp provides the campers a weekend of life's beautiful experiences. All activities are modified to meet their needs so each camper is allowed to be a child, as opposed to being a child with a handicap. Every child is able to participate in every activity.
Lions Nancy Ann Sherman and Greg Crapo had a vision of a place where all children would be equal. The vision became reality on a Friday afternoon in May, 1997. This was the day the first visually impaired children arrived for the Inaugural camp.

Actual Size: 1 1/2" x 1 1/4"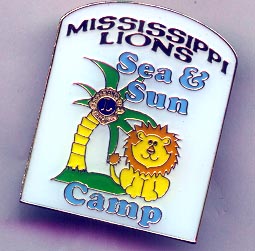 All proceeds benefit the Sea and Sun Camp
Get Your Camp Pin
Send $3.00 and SASE to:
Mississippi Lions
Sea and Sun Camp Pin
P.O. Box 182
Biloxi, Ms 39533
FUTURE CAMP DATES
2017 Camp: May 19 - 21
2018 Camp: May 18 - 20
2019 Camp: May 17 - 19
2020 Camp: May 20 - 22
Purpose

To provide children with visual impairments the opportunity to interact with their visually impaired peers through socialization and recreational activities.